Inspired by the advent of sustainable clothing and fair-trade initiatives, JOOB was founded by husband and wife team John Ames, Jr and Nicha Sangiampornpanit with a goal for total supply chain transparency and zero-waste in mind.
John and Nicha are working to develop a company that gives back to mother nature. They design stylish, sustainable, functional clothing to wear—where else? Outside! Their latest addition to their sustainability repertoire? TIPA® compostable packaging!
We asked JOOB's team about the challenges sustainable activewear companies are facing, choosing TIPA® compostable packaging, what sustainability means to them.
What are some of the challenges activewear companies are facing to reduce carbon footprint and plastic pollution in their clothing's lifecycle?
JOOB: One of the biggest challenges is simply helping consumers make more informed decisions about what it means to be sustainable and advocating for them to buy less, not more. Fast Fashion and Fashion in general, with the push for people to buy new items every season is just insane. The apparel industry is one of the biggest contributors to waste, pollution, and carbon emissions – in the world. While the industry can be blamed, we as consumers need to share this responsibility, look at what we are doing, and change. Can fast fashion sustainability become reality?
There's nothing better than consumers moving to sustainable climate neutral brands to get the attention of the big polluters to get them to change. If all of us only buy when we absolutely need something, recycle and repair versus throwaway – and align with brands that are helping the planet – this will move the industry.
Plastic packaging is a big part of this challenge – that's one of the reasons JOOB chose TIPA® compostable packaging instead of plastic bags and why we chose 100% recycled poly for our men's and women's tees.
What is the importance of packaging for JOOB?
JOOB: Since we are a direct to consumer (DTC) company, we have no presence at any online retailers like Amazon or local shops around Ann Arbor, our packaging will be the first thing a customer sees when they order from us.  So, it needs to align with our values on sustainability. 
We learned this lesson the hard way.  When we first started out, our cut and sew partners would send our product in plastic bags.  We heard back and our customers were asking "hey aren't you supposed to be sustainable, climate neutral, so why the use of plastic?"
That's when we stopped sending out plastic and found compostable packaging from TIPA®.  We also have Eco-Enclose reusable mailers for a lot of our items and use kraft cardboard for our day packs as this is the most recyclable type of packaging for this large size of shipment.
We also belong to the Michigan Recycling Coalition and have a  drop off box for folks to drop off their used  grocery bags at our store, and use these for customers coming in the store if they need a bag to carry out JOOB items.
Why did JOOB choose TIPA's compostable packaging vs. other packaging?
JOOB: Being a small, bootstrapped organization, we can't afford really large quantities of packaging so we need a partner that can work with small businesses and low volume.  TIPA's Stock Program offers reasonably priced packages that fit a small company's budget. 
TIPA® was great at helping our organization understand the types of compostable packaging that's out there and provide documentation on the research being done by them and others in the field of sustainable packaging.  Our organization wasn't that knowledgeable when it came to compostable packaging, so we were looking for a partner to help walk us through the pros and cons of various packaging types.  The TIPA® team was responsive, knowledgeable, and patient with us.
TIPA's technology is also rock solid. The fact that the bags turn to dirt after composting for 12 months was a key selling point.  We had heard of other companies offering "eco-friendly" bioplastics but with nothing proven it was hard to tell if the product was part of another greenwashing campaign.  TIPA® is legit, having gone through numerous studies to be certified home compostable.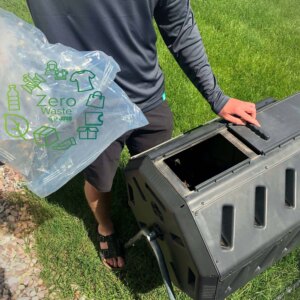 What does 'sustainable' mean for JOOB?
For JOOB, sustainability is built on five core principles that encourage sustainable practices across a number of fronts, and includes thoughtful sourcing for their fabrics, labor and partnerships, waste & recycling, energy usage, and community:
Fabrics
We try to find a mix of technical performance and sustainability for our fabrics, like our 100% recycled PET tees or our Check button down made from sustainable beech trees and silk.  We have a great partner in Kendor that shares our sustainability focus and has many sustainable fabrics from mills that are innovating across a number of materials. Sustainability starts with finding materials that don't use that much water, land, and can be recycled or use recycled materials and can be reused many times over.
Labor & Partnerships
We are working with teams that provide a living wage in their country, and that help employees develop skills beyond their current position means a lot to us.  We have a Brooklyn, NY and Bangkok, Thailand set of cut and sew facilities providing their teams with a great place to work and an environment for growth.
Waste & Recycling Efforts
We feel that sustainability also means developing practices that minimize landfill waste and support re-use, re-cycle, and repair.  We created a small network in Ann Arbor of partners that can repair any damaged product to be re-sold on JOOB's website at a discount.  We also try to work with 100% materials as these can be sent back to mills and re-made into more fabric.  Many people don't realize that blended materials (50% cotton/recycled poly, spandex mixes…) can't be recycled back into fabric.  So we work to find 100% sustainable materials and then send all product back for recycling.  Our Recycled Poly tees will be our first product to have this closed loop supply chain.
Energy Usage
Before we started JOOB, I worked with software technology that optimized carbon emissions for supply chains along with calculating end to end carbon emissions.  So I know a bit about how to incorporate clean energy and offset emissions.   Being climate neutral was an accomplishment for JOOB before our initial Kickstarter finished up.  When ClimateNeutral.Org opened their offices in Boston, I was really happy to see a US based push to bring brands to climate neutral status.  JOOB joined Climate Neutral and its network of brands that advocate for measure, reduce, offset – and we continue to look for ways to reduce our energy usage.  2020 is the first full year of our HQ being solar powered, and we are producing more energy than we are using to date.  (You can find JOOB's full list of climate improving initiatives here).
Community
Helping the local community to preserve, protect, and sustain the environment is another key value for JOOB.  We are a 1% for the Planet member and contribute a portion of our revenues to the Huron River Watershed Council – that works to protect the Huron River and surrounding tributaries from a variety of threats like PFAS, Microplastics, and Climate Change.  And with the Covid-19 pandemic this year we have given our sticker proceeds to Food Gatherers, Michigan's first food bank to help feed the food insecure in our community.
What's next in sustainability for JOOB?
JOOB: We just launched reusable masks to use for everyday folks as they travel and get back out there safely.  The masks are made from 100% recycled PET bottles, and have an antibacterial treatment made from shrimp and crab shells.  Super smooth to the touch, quick dry, re-usable.  Looks like masks will be the new normal so we thought we should help reduce the use of single use masks. 
We will be launching a women's tank, also made 100% from recycled bottles – in a few weeks.  Look for the Kickstarter campaign in late August or early September 2020.
We'll be looking to collaborate more with our recycled poly textile mill next year to see how their closed loop recycling process proceeds.  The plan is to take any product that is no longer usable to be sent back to the plant to be recycled and used again. 
We also have been following innovative textiles made from banana leaves, flax seed, and coffee beans – but many are blended with less sustainable materials like spandex or cotton – so we'll continue to look and take a slow fashion approach.
Is your brand is looking for a sustainable, compostable packaging solution for fashion and apparel? Learn more about TIPA's Stock Program or browse our portfolio of fashion applications!