The decision to go compostable demonstrates Santini's commitment towards continuously evolving and growing in their effort towards sustainability.
Santini has made the switch from conventional plastic packaging to TIPA's compostable packaging solutions for all of its cycling gear in 2021. Internally, the brand has been committed to choosing local manufacturers and continues to utilize recycled fabrics for its production. Santini continuously evolves to extend the scope of their pledge to sustainability and the most natural next step became finding an alternative solution to single-use plastic. TIPA's compostable flexible packaging fit all of the necessary criteria for Santini to transition and adopt the next generation of packaging solutions. This switch showcases great leadership, paving the way forward for more businesses to take responsibility for the impact their choice of packaging has on the rest of the world.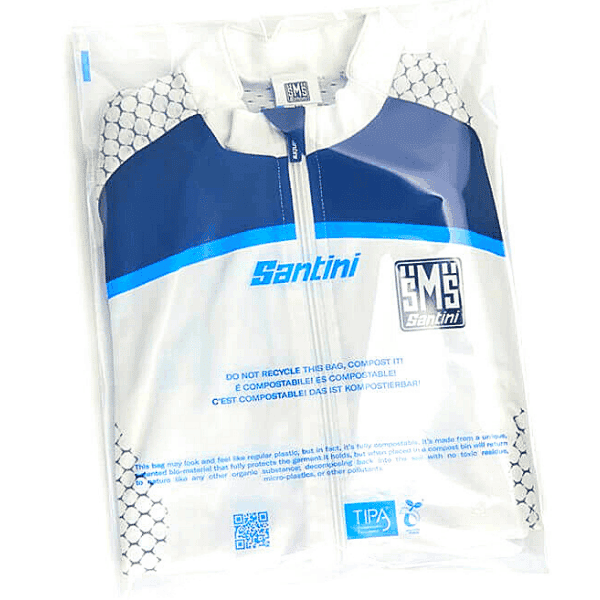 'So this means that it won't just be the cycling wear that is environmentally friendly but its packaging too!'  – declared Paola Santini, marketing manager at Santini Cycling Wear – 'Thanks to our agreement with TIPA, we will also be using compostable packaging from January 2021.  That is our commitment to becoming increasingly sustainable and lessening our environmental impact.'
As global urgency for environmental sustainability is rising, corporate companies that take accountability for their environmental footprint will have a huge competitive advantage. A brand that showcases commitment to sustainable efforts, positions the consumer to feel comfortable investing in them. Santini continuing to innovate itself by finding feasible business solutions that simultaneously act as an aid to the environment achieves more than relieving the earth of its resources but also employs a strategic marketing tool to earn the trust of consumers. In particular, the sustainable fashion industry is gaining tremendous momentum in popularity as many hard truths about 'fast fashion' are being revealed to the public, being one of the biggest contributors to waste, pollution, and carbon emissions. TIPA is committed to answering the needs of businesses that rely on the functionality conventional plastic affords them, but with a built-in end-of-life solution. TIPA supplying Santini with compostable packaging for all of their cycling gear demonstrates how compostable materials provide an ideal solution for players in fashion that are looking to take their brand image to the next level.