It's been an exciting year for TIPA – from awards received, articles in prestigious publications such as The Huffington Post and The Guardian, a broadcast on the Discovery Channel, certifications, product launches – both in the United States as well as in Europe, and participation at major trade shows.
World Food Innovation Award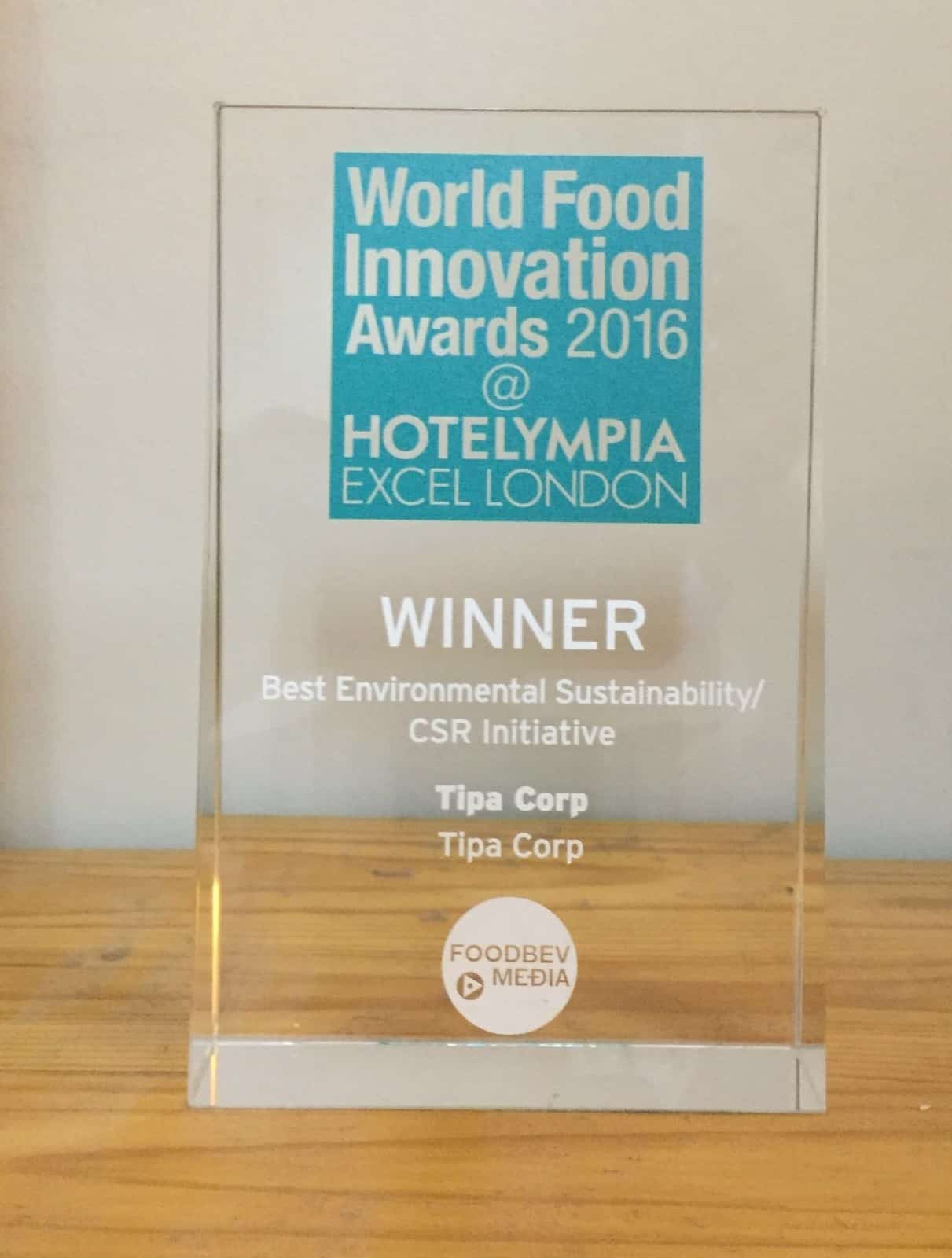 In March TIPA was proud and honored to have been awarded a World Food Innovation Award for the Best Environmental / CSR Initiative. The award was made for Tipa's range of 100% compostable flexible packaging for fresh produce, TipLock zipper bags, stand up pouches, paper applications, and for coffee and snacks.
The World Food Innovation Awards administered by FoodBev Media are designed to celebrate excellence and innovation across every category of the global food industry. This year, as in 2015, entrants included hundreds of ground breaking innovations from all over the world – from new brands and start-ups to world renowned names from throughout the food and beverage industry.
Articles In Prestigious Publications
TIPA made the news a number of times in 2016 – as a World Food Innovation Award winner, in Magnifeco and The Huffington Post as one of "7 Start-ups Shaking up the Fashion Industry," in How2Recycle, Biobased World News, Specialty Food, British Plastics & Rubber, Food Navigator, FoodBev, Food & Drink Technology, The Grocer and Packaging News.

In October TIPA was honored to be mentioned in The Guardian, along with customer Snact, as a part of "A new generation of manufacturers and scientists is working to tackle the global plastic waste crisis head on."
Broadcast on Discovery Channel
In a NewsWatch Television interview for Discovery Channel TIPA's CEO, Daphna Nissenbaum talked about the future of compostable packages and the revolutionary solution from TIPA. She described the need for compostable packaging saying, "The world is changing. The level of consumption is growing dramatically and at the same time awareness is rising. We all understand that we cannot continue using packages as we have done before, and something has to change. Well, TIPA's vision is to change all packages into compostable packaging so packaging can be treated as a resource and fully go back to nature."
Certifications
TIPA's packaging passed Cedar Grove's compostable testing and substrate review process – evidence that the packaging meets the FTC Green Guide on compostability (16 CFR § 260.7) for modern commercial composting facilities.
TIPA was also certified as home compostable by the Biodegradable Products Institute (BPI).
Product Launches
Product launches in the United States included compostable packaging for Crooked Row Farm (produce), Mara Hoffman (fashion), Recover Brands (apparel), Reuseit (Tiplock zipper bags) and Sheffa (granola snacks). Snact (fruit jerky snacks) was launched in the United Kingdom.
In France TIPA packaging is being used for postal distribution of magazines. Speaking about this, Elz Hotam, TIPA vice president sales, said, "The issue of France is strategic to TIPA due to the shift in the regulatory environment – to compostables – which favors TIPA's technology."
Trade Shows
According to Elz, "The most significant trade show for TIPA in 2016 was PACK EXPO. We saw a huge traction, mainly from converters and distributors." He continued, "Most of them weren't aware that the compostable film technology had evolved and become so useful and practical for so many applications. I think it was very valuable for us as well as for them to be aware of the possibilities and that the technology can capture."
What To Expect In 2017
Reflecting on 2016 and what to expect in 2017, Elz commented, "We continued to extend distributors and business collaborations with local manufacturers and distributors, for example Elevate Packaging. They are going to launch several products – standing pouches, coffee bags made with TIPA's technology, as well as a flex bag that is going to be introduced to the high-end food category. Their technology enables the short runs, the cost-effective short runs which is great for value-added products for high end brands."
"Digital printing of flexible packaging also offers promise, and we will have a significant collaboration with Flexible Technologies in this space," said Elz.
Elz is optimistic for 2017 and concluded by saying, "I think that we are on the verge…I don't want to sound too dramatic, but there's a lot of seeds that have been planted that I think will spring out during 2017. Be that the categories that we have reached, and the infrastructure that we have built, and we'll continue to explore in 2017, which makes me very optimistic."