Founded in London in 2004 with a vision for sustainability and seasonality, Natoora began as "the first online farmer's market," connecting consumers with farm-fresh and seasonal fruit and vegetables, fresh fish, cheese, and meat from all over the country. Their sustainability mission has always been clear: the health of the soil is paramount to the health of the fruit, which is why TIPA®'s compostable packaging made a perfect fit for their produce.
During COVID-19, Natoora pivoted from selling wholesale to home deliveries in early March, just as lockdown was announced in London, shuttering the restaurants of some of London's most sustainable chefs, many of whom source produce from Natoora. But selling to end-consumers through their new home delivery service and through supermarkets Waitrose, Whole Foods, and Ocado.
TIPA® asked Natoora a few questions about transitioning during COVID-19 lockdown and how compostable packaging helped to protect their produce from farm to table.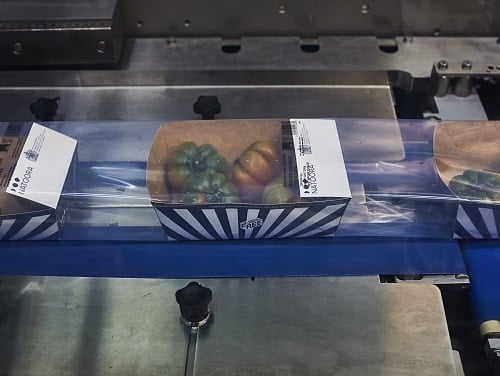 How has Natoora made changes to continue supplying vegetables to their consumers during coronavirus?
Natoora: We pivoted from selling wholesale to home deliveries on March 17th, just as lockdown was announced in London. We realised we were going to be without a customer base and needed to move quickly. Retail customers were given access to our chef-only app, to allow them to place orders of the same produce usually delivered to restaurants. It's similar operationally but our in-house tech team have managed to reconfigure the app to be more user friendly for our new customers. In the space of a month we've had 75,000 sign ups to the app in London and New York, it's been surprisingly successful.
How has using packaging allowed Natoora to meet health & safety requirements in supermarket chains?
Natoora: Where possible we try not to use packaging, when selling to restaurants or in our shops all produce is sold loose. When working with supermarkets if produce already has an outer protective layer we are able to meet health and safety requirements by using home compostable netting. With the more fragile items, especially those that our small-hold farmers have worked hard to grow and pick when ripe, we have come to TIPA® to create home compostable, plastic-like bio-film. This protects our ripe and delicate produce and reduces the impact that plastic has on the planet, whilst meeting the standards of the supermarkets.
What is the benefit of packaging sustainably as a fresh produce supplier?
Natoora: For Natoora our mission is to source and supply produce that has a reduced impact on the planet, from minimising the chemicals used when growing to farming practices that increase biodiversity. It makes complete sense to work with a more sustainable form of packaging. Our customers buy from us with complete confidence that we are making the right decisions for their health and for the planet's future.