If you are a small business, why should you have to make big efforts to change to eco-friendly packaging? What are the advantages and disadvantages of eco-friendly packaging? What eco friendly packaging can a small business use?
A dynamic supply chain for a smaller business means that when there's a call for a business upgrade of going green, it's an opportunity for a smaller business to make the move more easily, effectively, and quickly than a bigger business can. So, when thinking of switching to eco-friendly packaging, please consider that it could be done more smoother and in a more flexible and transparent way, in comparison to a bigger business.
The fact that you are a smaller business doesn't mean that your sustainable impact can't be bigger. For packing apparel, accessories, sport attire, undergarments, jewelry, mobile accessories, or other delicious produce, TIPA's compostable packaging ideas offer premium and certified bags for your needs!
A plastic alternative that fully returns to organic waste in 24 weeks in an industrial and home compost, for a fully circular solution.
What packaging can small businesses use to make their business go green?
Resealable bags
TIPA's resealable and organically recyclable packaging is extremely popular! Made from a home compostable transparent single-ply film with a resealable adhesive tape on the folding flap. After reusing it, you can safely toss your organic waste into it and compost it all fully!
Garment bags
These eco-friendly garment bags provide excellent protection for delicate apparel such as dresses, shirts, suits, pants, and gowns. Bags are made from a transparent, durable single-ply film to protect and display your garments beautifully and perfectly.
Mailing bags
Mailing bags poly mailers are perfect to pack and ship goods in a safe and secure way. Made from a home compostable opaque black & white single-ply film with a secure sealable adhesive strip on the folding flap, these elegant and chic shipping bags will surprise your customers with a meaningful message for them and for our mother earth.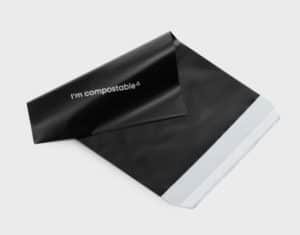 Open bag
Basic knife-sealed with wide opening bags that can be heat-sealed and are highly permeable to oxygen and moisture. This recyclable packaging is versatile and suited to pack food items like fresh produce, frozen products, apparel, fabrics, and accessories.

Zipper Bag – made with a unique compostable zipper for secure closing and easy opening. Suitable to pack accessories & toiletries, fresh produce, and mobile accessories.

Wicketed bag – made from a highly permeable single-fly film, these bags are neatly stacked together on a wire wicket for easy and quick dispensing; suitable for fresh produce. Compostable packaging is not only as effective as conventional plastic but may even outperform it for shelf-life of shelf produce such as vegetables and fruits, studies find.

What is Eco-friendly packaging?
Eco-friendly packaging is exactly like it sounds, it's not harming the environment but can even help our earth; it reduces carbon footprints and when it comes to compostable packaging when decomposing under the right conditions, compost enriches the earth, helps to retain moisture, acts like a natural fertilizer, and can improve our soil. It's safe to say, and scientifically proven, that certified compostable packaging is acting in a friendly manner to our environment.
What is the most environmentally friendly packaging?
The most environmentally friendly packaging is packaging that promotes the circular economy, where nothing goes to waste, but instead transforms into another form of resource.
The circular economy can come in many ways, but the 3 main common models are: composting, recycling, and reusing materials.
Compostable packaging – the packaging materials break down into carbon dioxide, water, inorganic elements, and biomass, without leaving any toxic residue. Once the waste is processed and under the right composting conditions, the waste is being converted into compost and goes back to the ground to enrich the soil.
Recyclable packaging – a popular term for products and a process, where plastic is supposed to break down and used again. Unfortunately, many data, research and articles show that only 9% of the recycled material really breaks down to plastic to make other plastic products (because it can plug up recycling machinery, food contact, adhesives that are not recyclable, etc.) The rest 91% unrecycled plastic ends up contaminating our oceans, landfills or being Incinerated to pollute our air.
Reusable packaging – When possible, it's always best to reuse material again and again where no waste is generated and no plastic pollution. For instance, glass jars, or cloth pouches.
How to communicate sustainability through packaging?
Consumers today want the whole story of sustainable products, how it preserves our ecosystem, and how it can reduce/ end plastic waste. Customers want to take a part in this journey, as they are looking at companies' behavior in trying to achieve these goals.
By embracing technology, it's become more accessible, demandable, and doable to use eco-friendly packaging in your supply chain, than ever before. Even though, there's still quite a way to go before the eco-friendly packaging will be fully implemented, we are in a good place for you to join. According to the IBM study developed in partnership with the National Retail Federation (NRF), "consumers are prioritizing those (products) that are sustainable, transparent and aligned with their core values, when making these decisions. They're willing to pay more, and even change their buying habits, for brands that get it right." Consumers are becoming impatient and intolerant of plastic accumulation that continues to grow and harm our environment and instead choose compostable with an end-of life solutions over the regular 'good' old plastic packaging. People vote with their feet! And their wallets…
Upgrade your marketing, upgrade your sales: One of the best actors of our generation once said, you can be a brilliant actor, but if you don't have an audience, you won't be able to perform and shine your true talent, basically you won't work. So, in the same way, making sure that your target audience will watch your sustainable efforts, marketing and communicating your eco-friendly packaging materials properly, are essential and will go a long way. With a personal sustainable marketing messaging, you can create a bond between your consumer, your product, and our environment. Present your sustainable commitment and inspire your customers to join this model of circular economy.
Beautiful inside & out; packaging is the first thing your customer will see when they receive your product. With global beauty industry's worth $511 billion in 2022, customers (still) love beautiful products, and packaging & messaging are an essential part of your product. TIPA's compostable flexible packaging options offer premium bags, elegant, transparent, sealable, and printable for your needs. Depending on the type and weight of your product, TIPA's packaging bags all the range of products from fashion clothing and accessories brands to fresh, dry, baked, and frozen produce, all the way to heavy loads of deliciously organic produce like bananas and apples. Durability is key here.
Popular brands that use environmentally friendly packaging
TIPA is a world leader in certified, fully compostable packaging solutions. While working with many world's leading brands and partners, TIPA understands it's responsibility and pledge of commitment to reducing plastic waste and creating a greener world. TIPA invites small businesses to join our path of high-quality compostable packaging solutions for your brand. Here are some of our elite customers:
How can small businesses implement eco-friendly packaging?
Fortunately, the need and the demand for compostable packaging solutions keeps growing which means that it makes it easier for smaller businesses to jump on the bandwagon: together, we can tackle the plastic waste problems and make your eco-friendly packaging available and friendlier for your customers. Here are 3 steps to join the eco-friendly packaging solution:
Make sure you choose materials that are either reusable like in the case of glass jars or cloth pouches; or if you need flexible packaging, choose compostable materials that are certified properly and compost, instead of regular plastic bags.
Going green is great! While it is commended and appreciated, you want to make sure that your packaging will be of the highest quality for your goods; there are things that you simply can't compromise on like durability, flexibility, transparency, high humidity and oxygen barriers properties, seal ability, printability etc.
Messaging and communication are key! When going all the way to have your eco-friendly packaging, communicating your new bags' benefits is ESSENTIAL. Unfortunately, there are many examples of organisations engaging in greenwashing and it became a term that was coined by environmentalist Jay Westerveld in 1986 when describing how instead of efforts for a business to become more sustainable, they were just saving costs… Well, customers love real things, and they don't like to be fabricated or lied to. At TIPA we are obsessed with authenticity.
Here are some examples of communication we share with our clients on our packaging:
This bag is fully home-compostable! under compost conditions
This plastic alternative returns to organic waste in 24 weeks in an industrial compost
This bag goes back to nature and decomposes into organic matter
Thank you for composting me, you're an earth-saving angel!
Ready to take the leap and move to eco-friendly packaging? TIPA's packaging is sustainable by design, as every one of our premium products is compostable certified to break down into organic waste within 3-6 months under compost conditions. Visit us at TIPA e-shop today, explore small quantities of eco-friendly packaging options, and gradually upgrade to branded packaging.