Custom-sized lidding laminate that is heat-sealed to a punnet/tray for an easy-peel open.
Available with ventilation holes. Flexographic and digital printing is available in up to 10 colors for customized brand messaging to achieve great shelf impact and communicate company values.
500 kg. In units, the minimum order quantity will vary from 10,000 and up, depending on the material, dimensions, and thickness. For lower quantities of ready-made bags with Tipa branding, please visit our e-shop.
TIPA's lidding film is compostable and will biodegrade under compost conditions. The composter's conditions will trigger the film to decompose into water, CO2 and organic matter, eventually becoming a rich nutrient compost within 180 days. For more information on Biodegradable vs. Compostable > https://tipa-corp.com/blog/compostable-vs-biodegradable/
Look for the TIPA logo or logos of globally recognized certificates. All of TIPA® Compostable films and laminates compliy with the standards for home and industrial composting, including TUV, OK Compost Home, BPI, ABA, and CRE, which adhere to the highest standards.
TIPA's lidding film are made of a proprietary blend of fully compostable polymers, which are both bio-based and fossil-based (yes! fossil-based polymers can be compostable too). This blend provides our films with a similar set of properties and capabilities of conventional plastic, so that brands can use compostable packaging for their chain of supply without compromising on quality or sustainability.
TIPA's certified home compostable film will decompose in a home composter within 24 weeks; certified Industrial compostable film will decompose within 6-12 weeks in industrial compostable facilities, according to your area regulations for industrial composting.
Other applications you may be interested in
High-quality flow-wrap pouches with horizontal fin or lap seal and durable seal on both ends designed to wrap food bars.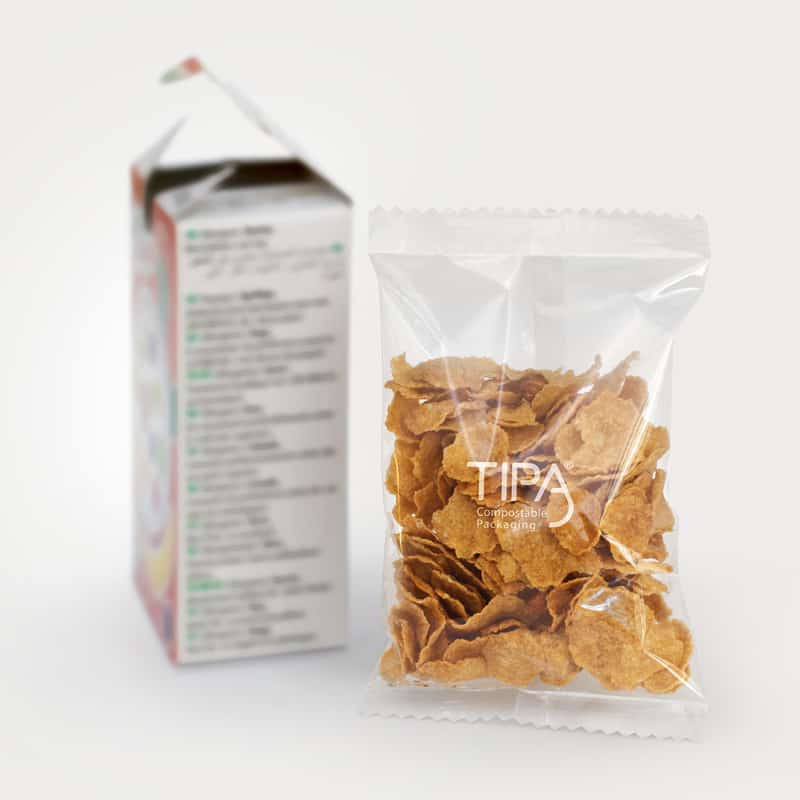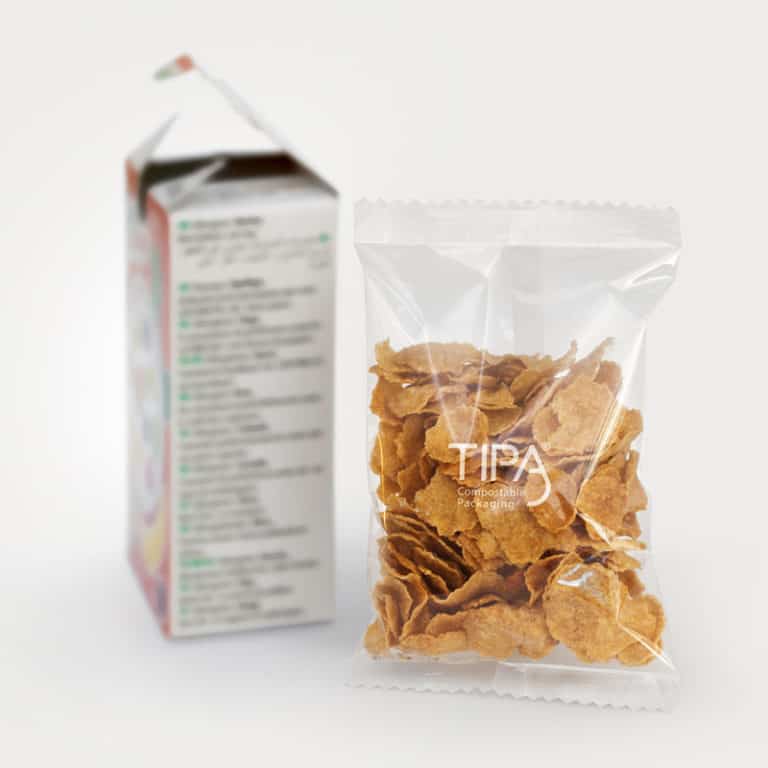 High-quality flow-wrap bags with horizontal or vertical fin or lap seal, and durable seal on both ends.
High-quality flow-wrap pouches with horizontal fin or lap seal and durable seal on both ends, designed to wrap individual punnets.