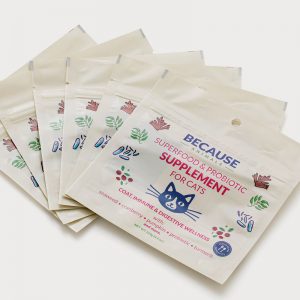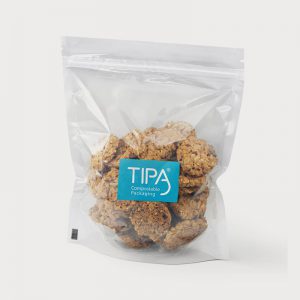 Eco-Friendly Stand-Up Pouch
Laminate-Based Applications:
Reliable compostable stand-up pouches with resealable zipper and a stable bottom gusset.
Features:
Available with tear-notch for easy-rip open.
Available without home-compostable zipper.
Available with hole punch for easy-hanging.
Stable bottom gusset for shelving.
Flexographic and digital printing is available up to 10 colors for customized brand messaging to achieve great shelf impact and communicate company values.
Suggested Uses:
Tea, Dry Food, Apparel
For off-the-shelf applications, check out our E-shop for pre-made packaging.
TIPA's Stand up pouches are made of a proprietary blend of fully compostable polymers that are both bio-based and fossil-based (Yes! Fossil-based polymers can be compostable too). This blend provides our packaging with similar properties and capabilities to conventional plastic, so brands can use compostable packaging for their chain of supply without compromising on quality or sustainability.
Certainly, all TIPA packaging is eco-friendly, and like nature's packaging, TIPA's compostable stand up pouches will biodegrade over time, becoming rich nutrient compost, returning to nature.
TIPA's certified home compostable stand-up pouches will decompose in a home composter within up to 24 weeks; industrial compostable stand-up pouches will decompose in industrial compostable facilities within 6-12 weeks, according to your local regulations for industrial composting.
They sure are. Just like nature's packaging, TIPA's compostable stand up pouches placed in a compost environment, will biodegrade eventually, becoming a rich nutrient compost that returns to nature. Conventional flexible plastic packaging, on the other hand, is almost impossible to recycle and ultimately becomes microplastic that pollutes our planet.