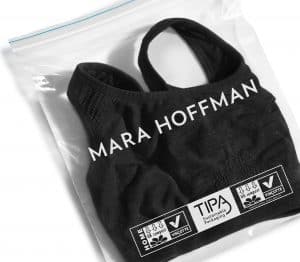 At the forefront of fashion
As a sustainable fashion brand, New York-based Mara Hoffman has established a recognizable aesthetic heavily focused on colorful, original prints, which can be seen gracing the pages of magazines around the world from Cosmopolitan, Elle, and Glamour to Tatler and Vogue, to name just a few.
Mara Hoffman, who founded her eponymous company, has always had an ethos of respect for both people and the planet. In this interview, Dana Davis, the Director of Design and Production for the fashion house, describes the journey that the company is on to increase sustainable practices – which has so far led to mapping their supply chain, relooking production processes as well as packaging, and ultimately deciding on compostable packaging as the way forward for their apparel.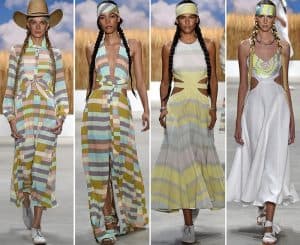 Starting a sustainability journey
According to Dana, "The company itself has been around for almost 16 years and has always been privately owned. Mara started with literally hand dying pieces herself."
She continued, "It has obviously grown tremendously since then, and very organically I should add. But about a year ago, Mara came to me directly and had a lot of concerns about the negative impact we were making. We spoke very candidly about the need to change our processes for the better, and what that would look like. That was when the true challenge really came to light, and we saw the long journey we had ahead."
Advice from industry experts
The first steps the MH team took were to connect with industry experts. Then, as Dana said herself, "We became members of the Sustainable Apparel Coalition (SAC). They emphasized that we needed to focus on mapping out our supply chain, and so that's where we first started to put our efforts. Then came the achievable quick fixes such as changing to digital printing and sourcing sustainable fibers."
After these initial changes were made, the team started to focus on mapping out their supply chain by spending more time in their facilities, doing internal audits, and engaging with the factory owners and workers. "It is critical that our partners understand our standards and that they adhere to them"
Converting to compostable packaging
The next steps came as packaging came into focus. "At first," Dana explained, "We looked at making a poly bag that could be recycled, but you had to take it to a special facility to do so, which we know isn't the easiest thing for the consumer to do."
Dana described how they then contacted the SAC and asked if there were other brands they would recommend. "They put us in touch with other major players in the space. Everybody is facing this poly bag situation. But ultimately I was put in touch with Elz Hotam from TIPA, which is how this conversation led us to a poly bag that's compostable. We understand that most people don't compost. They don't have the resources to compost at home, but we're willing and ready to engage in those conversations to educate people on this, and ultimately get our consumer to think a little bit differently," said Dana.
A sustainability promise
Dana concluded with a promise for what the company calls their mindfulness journey, "This is the way that this brand will grow from now on. This is the only direction that will propel us forward."
Honored to be a part of Mara Hoffman's sustainability journey
Commenting on TIPA's project with Mara Hoffman, Elz Hotam, TIPA VP Sales said, "TIPA is honored to be a part of Mara Hoffman's journey. Compostable packaging for fashion and apparel is not only a good opportunity for TIPA, but also for the fashion industry."
Elz continued, "The big idea here is that within a few months after the packaging ends its use it will turn to compost, a resource for the planet and its sustainability. Equally important is the easiness of disposal for the end user. Instead of establishing new systems, and imposing additional effort on the consumer, compostable packaging can be easily integrated into existing food waste infrastructure."
A Sustainable Fashion Brand is win-win for people and planet!