Revolutionizing Fashion Packaging 
In today's fashion industry, packaging plays a crucial role beyond its functional purpose. It has become an essential tool for businesses to create a positive brand image, enhance customer experience, and align with sustainability goals. Meanwhile, the fashion industry uses approximately 180 billion plastic bags every year, which end up in landfills after one use, where they won't degrade for hundreds of years. In recent years, several fashion brands and retailers are proactively addressing their environmental impact by recognizing the significance of packaging. Primark, for instance, has committed to eliminating all single-use plastics by 2027; Superdry has set a goal to convert 100% of its packaging to recyclable, reusable, or compostable alternatives by 2025, showcasing their dedication to sustainability.
Let's explores the significance of eco-friendly apparel packaging and highlight the best options available for businesses aiming to make a positive impact on the environment. 
The importance of packaging for apparel businesses
Packaging serves multiple purposes for apparel businesses:
Protection: Ensures garments stay clean, wrinkle-free, and in pristine condition during shipping and storage.
Brand Identity: Represents the brand's image, making a lasting impression on customers.
Visual Appeal: Well-designed packaging enhances the overall presentation of the product.
Customer Experience: Delivers a positive unboxing experience, creating a sense of excitement and satisfaction.
Information Communication: Packaging can convey important details about the garment, such as care instructions and materials used.
Differentiation: Unique and thoughtful packaging sets a brand apart from competitors, leaving a memorable impression.
The Problems with Plastic Packaging in the Fashion Industry
Plastic packaging has long been a prevalent choice in the fashion industry, but its negative environmental impact cannot be overlooked:
The fashion industry generates a substantial amount of plastic waste. Globally, it is estimated that over 8 million tons of plastic end up in the oceans each year.
Annualy packaging used by this industry contributes 26% to global plastic production;
A substantial quantity of plastic is utilized in the fashion supply chain for shipping and storing textiles, raw materials, and finished products. However, current legislations, like those in the United States, primarily focus on consumer-level plastic usage, especially in stores, and overlook its extensive use within the industry. As online clothing sales continue to surge, constituting up to 23% of total retail sales in the U.S and 47% in the U.K, it is crucial for legislators to pay attention to this sector.
Recycling is also not the solution many consumers and brands hope it will be; only about 1% of flexible plastic packaging is actually being recycled.
These problems are only the tip of the polluting iceberg and as the industry shifts towards eco-conscious practices, finding alternatives to traditional plastic packaging becomes paramount.
Best Eco-Friendly Fashion Packaging:
TIPA's Sustainable Solutions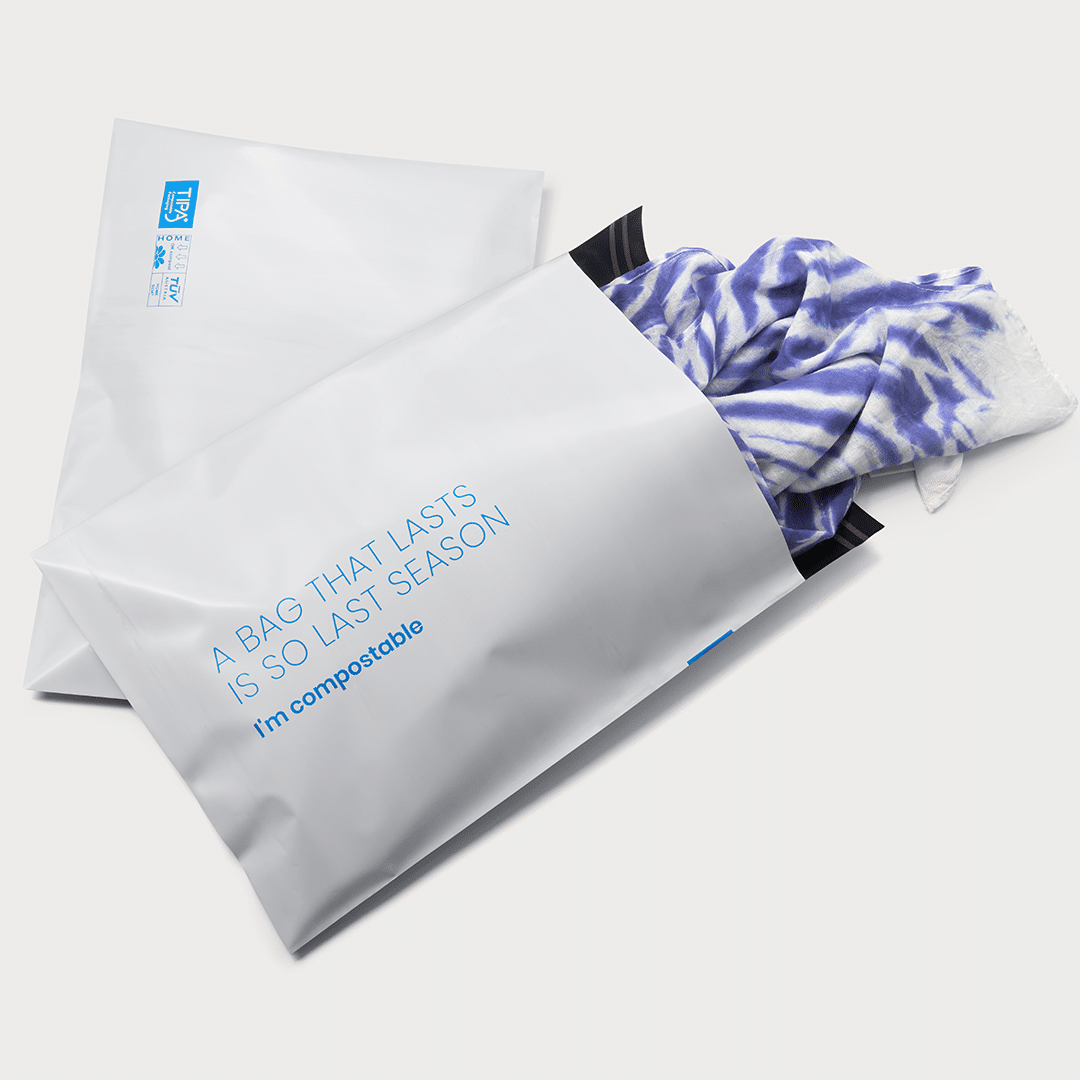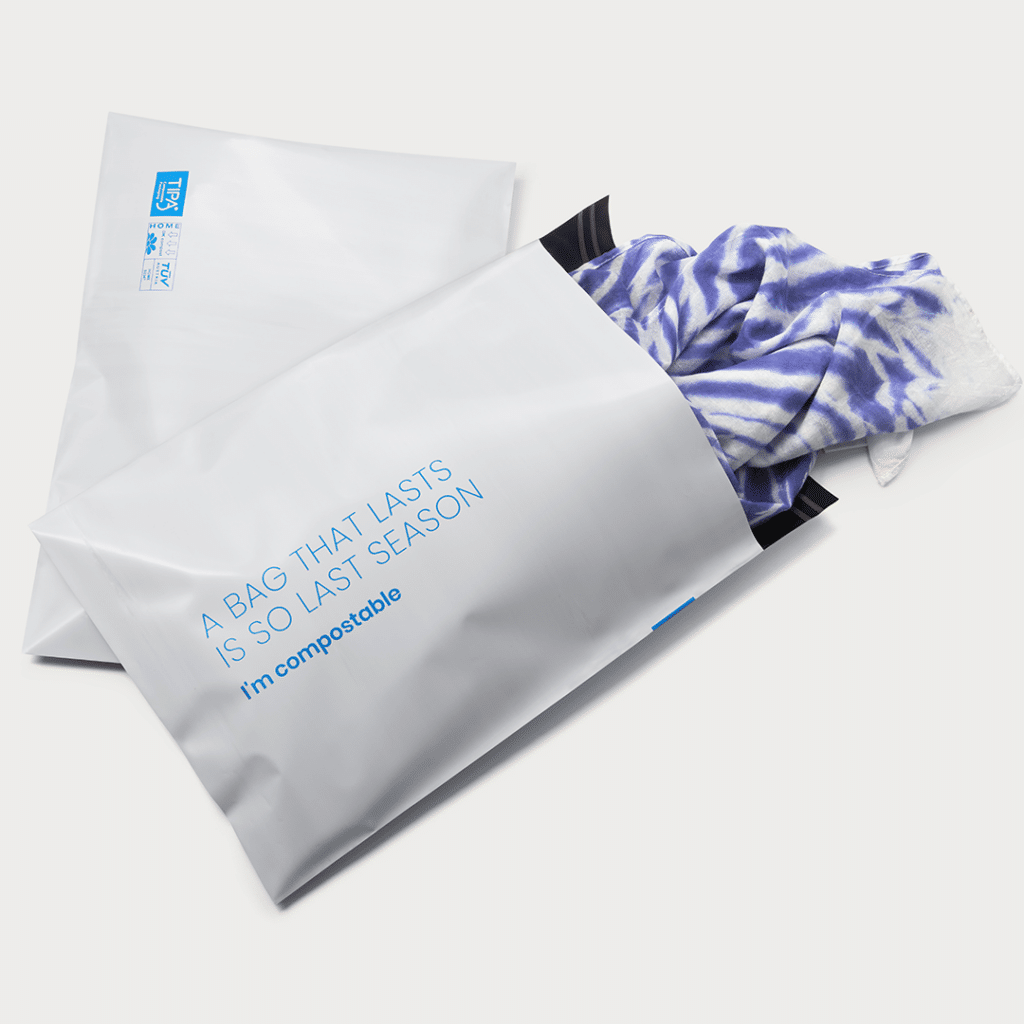 Eco Mailer Bag:
Eco Mailer Bag is an eco-friendly alternative to ship, pack, and protect apparel and accessories for e-commerce. Made from home compostable, opaque single-ply film,
TIPA's mailer bags
can be custom-printed for maximum brand impact and are available in standard or customized sizes and thicknesses. These user-friendly and durable bags have an adhesive tape strip for a secure seal. Its features include permanent tape, ventilation holes or tear-off perforation, a bottom gusset that allows the mailer to contain larger volumes and flexographic for up to 10 colors for customized brand messaging.
Resealable Bag: Compostable resealable bag has gained popularity as an eco-friendly solution for shipping, packing, and protecting apparel in e-commerce and storage. Made from home compostable, transparent or opaque, single-ply film, TIPA's resealable bags can be custom-printed for maximum brand impact. These user-friendly and durable bags are available with adhesive tape strips that allow for easy sealing and opening, and available with ventilation holes, bottom gusset for larger volumes and flexographic for up to 10 colors for customized brand messaging. 
Garment bags
provide excellent protection and therefore are used as bags for dresses, gowns, t-shirts, suits and pants and can be custom sized for short, medium, and long garments.
TIPA's compostable garment packaging
can be printed up to 1 color to accommodate brand messaging, choking hazard warning, certification of composability, and disposal instructions. Each set of eco-friendly garment packaging comes on a reel for low-volume storage, with easy-to-tear perforation. Flexographic and digital printing is available in 1 color for customized brand messaging to achieve great shelf impact and communicate company values.
Zipper Bag: Made from compostable materials, these bags feature a durable zipper closure that allows for easy opening and closing, ensuring the safety and integrity of the packaged items. Zipper Bags are versatile and can be used for various purposes, such as storing accessories, small garments, or organizing inventory. TIPA's Zipper bags are made from highly transparent, lightweight, durable, and printable single-ply home compostable film, with a certified home compostable zipper. The Compostable Zipper Bags are available with a bottom gusset for high-volumes, and/or tear notch, and can be hole punched for easy hanging. They can also come with an easy-carry handle, ventilation holes, and flexographic and digital printing in up to 10 colors for customized brand messaging.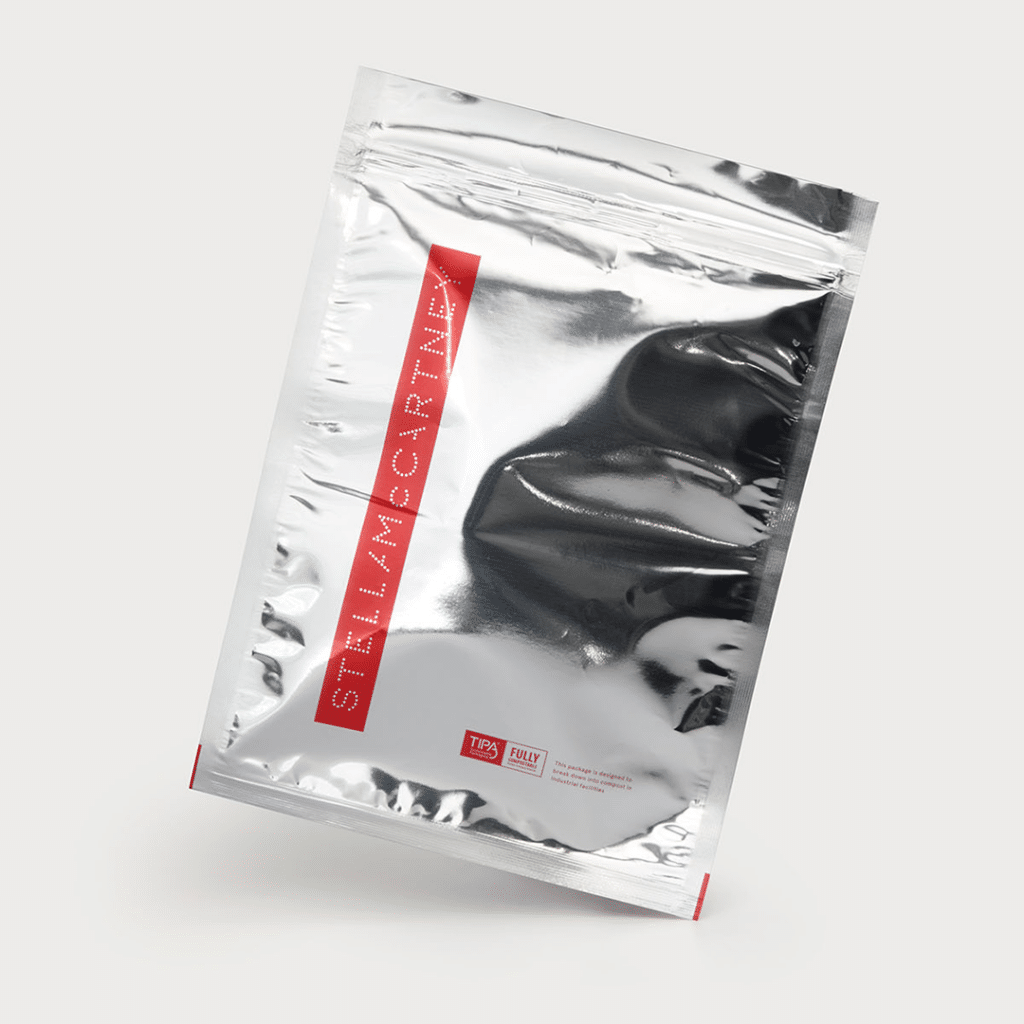 Compostable Zipper Pouch Packaging: These bags are perfect for smaller accessories or promotional items. TIPA's Compostable Zipper Pouch Packaging are  fully compostable, with a resealable compostable zipper, available with a security seal and tear-notch or perforation, for easy-rip open; an easy-carry handle; a hole punch for easy hanging. Flexographic and digital printing in up to 10 colors for customized brand messaging is also an option.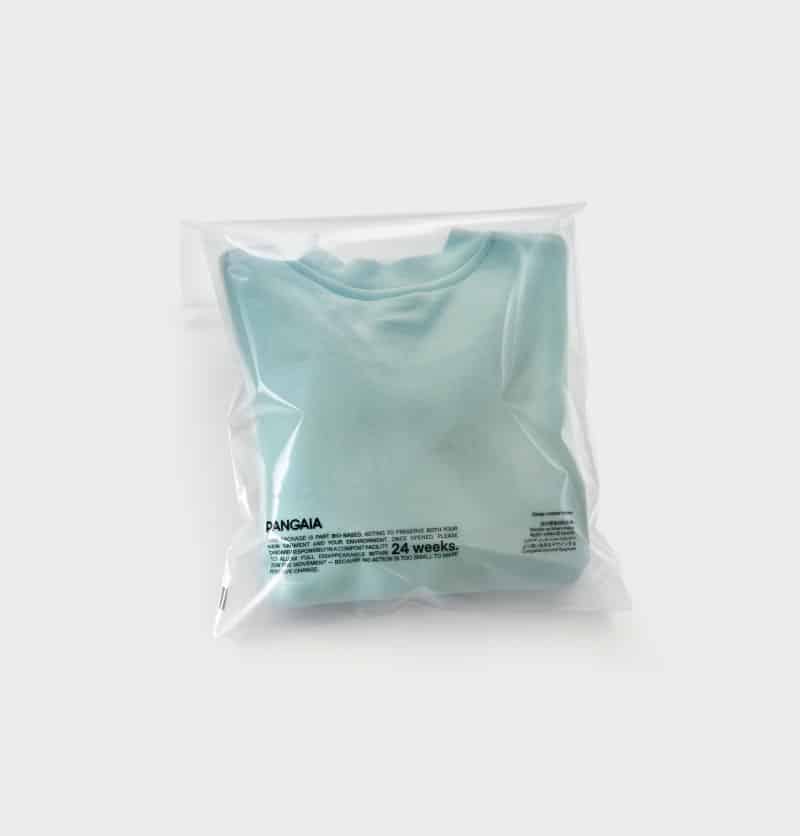 Flap Pouch Packaging: These versatile and eco-friendly packaging solutions are suitable for a variety of apparel items. TIPA's Flap Pouch Packaging are made from compostable materials and feature a flap closure, providing easy access and secure storage for the contents. They are an ideal option for businesses looking to enhance their sustainable packaging offerings while maintaining a professional and aesthetically pleasing presentation.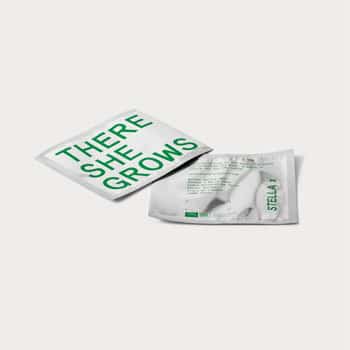 Open Pouch
: These eco-friendly packaging solutions, that showcase garments and accessories elegantly, are practical, basic pouches that offer convenience and visibility for businesses in the fashion industry. Made from compostable materials,
TIPA's open pouches
feature an open design, allowing easy access. Open Pouches are versatile and can be used for various apparel items such as scarves, socks or small accessories and are Ideal for display purposes. They also have a  wide opening that can be heat-sealed and can be flexographic and digitally printed in up to 10 colors for customized brand messaging.
Eco-Friendly Stand-Up Pouches: These pouches are made from compostable materials and feature resealable zipper and a stable bottom gusset. TIPA's Stand-Up Pouches' design allows them to be displayed upright on store shelves or in storage. They are available with tear-notch for easy-rip open; hole punch for easy-hanging; stable bottom gusset for shelving;  with or without home-compostable zipper. Flexographic and digital printing in up to 10 colors for customized brand messaging is also an option.
What Types of Businesses Can Use Compostable Fashion Packaging
Compostable fashion packaging offers a versatile and sustainable solution that can be embraced by various types of businesses in the apparel industry. Whether you are a small independent brand, a high-end couture house, or a fast fashion retailer, there are ample opportunities to integrate compostable packaging into your operations.
Small and independent brands can benefit greatly from compostable fashion packaging. These businesses often prioritize sustainability and have a close relationship with their customers. By opting for compostable packaging, they can reinforce their eco-conscious values and resonate with their environmentally conscious audience. 
High-end couture houses can also leverage compostable fashion packaging to align with their luxury branding and craftsmanship. By incorporating compostable materials into their packaging, these brands can demonstrate their dedication to high-quality, environmentally responsible practices. It adds an extra layer of sophistication and strengthens the exclusivity of their products.
Fast fashion retailers, known for their mass production and high turnover, can make a significant impact by adopting compostable fashion packaging. These businesses often face criticism for their environmental footprint, but by transitioning to compostable packaging, they can show their commitment to reducing waste and contribute to a more sustainable fashion industry. It allows them to cater to the growing consumer demand for eco-friendly alternatives and reshape their reputation.
Moreover, online retailers across the spectrum can embrace compostable fashion packaging as a way to enhance their sustainability efforts. As e-commerce continues to thrive, ensuring that packaging materials are eco-friendly becomes crucial. From small e-boutiques to major online marketplaces, integrating compostable packaging can reduce the environmental impact of shipping and improve the overall sustainability of the online retail experience.
 Fashion brands using TIPA bags:
Embrace Sustainable Packaging Practices
As the fashion industry increasingly embraces sustainability, eco-friendly apparel packaging has become an essential aspect of responsible business practices. By transitioning to compostable packaging alternatives, businesses can mitigate the environmental impact of their operations while solidifying their commitment to a greener future. With options like TIPA's innovative range of compostable packaging solutions, fashion businesses can embark on a journey towards a more sustainable and conscientious approach to packaging, ultimately contributing to a healthier planet.